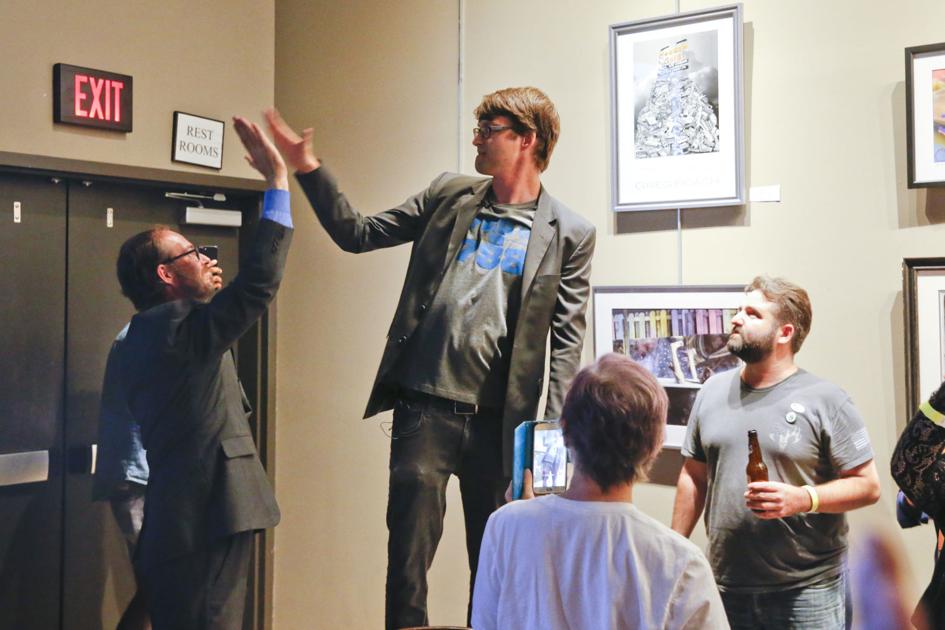 If you are a subscriber: Simply log in for unlimited access. If you are a non subscriber: You have used your free views allowed every 30 days. You must really value what we do for you. Try a digital subscription for only $0.99. Subscribe now.
Vote Yes on 788 secretary Shawn Jenkins and president Frank Grove high-five as State Question 788 was declared to have passed during a Yes on 788 watch party at Circle Cinema in June 2018. IAN MAUL/Tulsa World
Medical marijuana advocate Chip Paul makes remarks in reaction to rules adopted for the state's medical marijuana program at Gnu Pharma. MATT BARNARD/Tulsa World
Josh Le welling, center, and Isaac Canniness, left, of Green the Vote, deliver boxes containing petitions. A group of about 35 volunteers and supporters of the pro-cannabis movement in Oklahoma deliver boxes filed with petitions to the Secretary of State's office Aug. 8, 2018. JIM BECKER/The Oklahoman
Frank Grove listens to a speaker during the first meeting of the Medical Marijuana Working Group at the state Capitol. NATE BILLINGS/The Oklahoman
Bud Scott speaks during a presentation by New Health Solutions Oklahoma at the first meeting of the Medical Marijuana Working Group. NATE BILLINGS/The Oklahoman
Isaac Cavines grins as he and Josh Le welling remove the first containers from a van packed with containers and boxes of petitions. A group of about 35 volunteers and supporters of the pro-cannabis movement in Oklahoma deliver boxes filed with petitions to the Secretary of State's office on Aug. 8 JIM BECKEL/The Oklahoman
The cannabis community in Oklahoma has grown significantly in the two years since a group of activists successfully petitioned to put medical marijuana on a ballot. But many people don't know who it was behind that effort, much less who has stepped in since then as the leading voices on marijuana in Oklahoma.
The names of various industry groups, activists, patient advocates and other stakeholders are likely familiar to those who follow the issue on social media. That's where the grass-roots movement to put State Question 788 up for a vote of the people began years ago and where it gained steam.
Oklahoman for Health and its co-founders Frank Grove and Chip Paul were the first to launch petition efforts to put medical marijuana up for a vote of the people. The first effort in 2014 failed. They worked on the text of SQ 788 and gathered signatures in 2016 that ensured the measure's appearance on the June 2018 ballot.
Green the Vote in 2015 launched a failed petition drive to make medical marijuana a constitutional state question. The group is now a listed plaintiff in a lawsuit regarding emergency rules put in place after SQ 788 took effect. Its leader, Isaac Caginess, came under fire after confirming he and another board member reported inflated numbers while collecting signatures in support of a state question that would legalize recreational marijuana.
New Health Solutions Oklahoma, a trade group representing some cannabis industry entrepreneurs, has been among the most vocal advocates for a special legislative session to enact regulations for SQ 788. Leaders Bud Scott and Jed Green drafted 200-plus pages of proposed rules last month and opened it up for public comment.
Oklahoman for Cannabis is associated with the Oklahoma Cannabis League, a grass-roots group renamed after the passage of SQ 788. The group, led by Frank Grove and Shawn Jenkins, also operated under the Oklahoman's for Health name during the SQ 788 petition drive process but has since become a separate organization.
The process of legalization is complex, because legalization is just the start. Groundwork needs to be laid for an entirely new regulatory program, a new industry, and new form of medicine, he said. Add ego and opinion to the mix and mistrust can build.
Green joined New Health shortly after its inception and got to work on the Yes to 788 campaign, as well as forming and heading the political action committee for the campaign.
In late June, Paul was forcefully removed from a public marijuana forum by Rogers County Sheriff Scott Walton. Paul said he was quietly expressing frustration over comments made by some speakers at the forum for which Walton physically removed him. Walton claimed Paul was being disruptive.
Paul has long been an influential advocate for 788. He took issue with the initial proposal, which he said offered an advantage to Scott's business partners, but is happy with the latest draft "all the way down to the dotted I's and the crossed T's."
Oklahoman's for Cannabis has maintained that their No. 1 concern is making sure patients gain access to medical marijuana for treatment. Business interests are a distant second, which Grove said isn't the case for the groups that signed off on the collaborative draft.