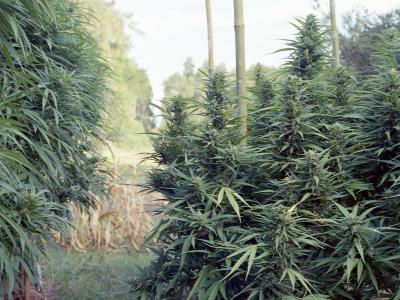 This was a big week for cannabis legalization on the international plane, with the country of Georgia decriminalizing cannabis use and possession though a court ruling, and the Argentine province of Jujuy announcing the local government would start producing marijuana for medicinal and research uses.
"Of all the earnings that came out this week, the one thing that really struck me was Scott's Miracle-Gro comment about California over-production of cannabis putting pressure on its Hawthorne division. Too much supply must've caused the prices to fall and that means growers can't spend as much with companies like Scott's. I wonder how many more companies have felt this and didn't say anything publicly," Borchardt said.
In the capital markets realm, the United States Marijuana Index, which tracks 18 of the largest marijuana stocks in the U.S., dropped roughly 2.2 percent this week, while the North American Marijuana Index, which also includes Canadian stocks, also lost about 2.2 percent of its value.*
"We're very excited to lead the Reg A+ raise for High Times," Trevor M. Saliba, Chairman of NMS Capital Advisors told Benzinga. "Their company is a pioneer in the cannabis news and media space, with a 43-year history. With the proceeds from this capital raise, they will grow their presence globally as they look to acquire other quality companies and host more events throughout the world. We believe the Reg A+ format is a great method of raising capital for High Times, as it allows everybody to become a shareholder of such an exciting company. With the expected growth of the cannabis industry in years to come, High Times is positioning itself for a bright future."
A Detroit judge dropped felony charges against six people arrested in the raid of a cannabis grow operation with a reported $1 million in plants, owned by former NBA player Al Harrington. The judge said the facility was within the bounds of its temporary state license.
The world's largest cannabis compliance firm, Toronto-based Cannabis Compliance Inc. became the newest founding member of the Global Cannabis Partnership (GCP). The consulting firm joins 16 other founding members in the creation of a worldwide social responsibility standard for the safe and responsible production, distribution and consumption of legal, adult-use recreational cannabis.
"With Canada leading the world on medical and legal, adult-use recreational cannabis cultivation, production and distribution, it's no surprise that other nations are looking at us for expertise from an industry, as well as policy legislation, perspective," said Deepak Anand, Vice President of Business Development and Government Relations at CCI. "CCI looks forward to contributing, through policy and regulatory development, to the overarching CSR mandate within the GCP. We believe that social responsibility standards in the global cannabis industry are imperative, and that the CSR piece is critical to the success and progress of the industry and for society."
Speakeasy Cannabis Club Ltd SPBBF 5.77%, a late stage ACMPR applicant, announced its plans to begin work on its first 60 acre outdoor plantation and process facility in Rock Creek BC for the spring of 2019. CEO Marc Geen stated, "The recent release of regulations allowing outdoor production is a dream come true for us. It has always been our plan to grow outdoors on a large scale, but we did not expect regulations to allow it to happen this soon. The climate here in Rock Creek is absolutely perfect for growing cannabis outdoors and we are thrilled at the opportunity to begin as soon as possible."
TheraCann announced the launch of its breakthrough ETCH biotrace (TM) technology. The molecular "tag and trace" system is poised to further refine and transform the cannabis regulatory environment by adding capabilities that allow for forensic tracking of cannabis and cannabis derivatives across the supply chain.
This was a big week for cannabis legalization on the international plane, with the country of Georgia decriminalizing cannabis use and possession …